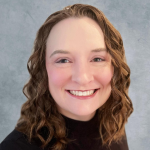 Jamie joined LB in April 2022 as a platinum subcontractor team member and has over 10 years of experience in government contracting.  Jamie started her career in auditing and then in progressive accounting roles at government contractors, where she received exposure to Deltek Costpoint implementations and integrations.
In her previous role as Accounting Shared Services Director, she managed a large accounting department that handled Asset Management, Corporate Real Estate, Cash Applications, General Accounting, Benefits Accounting and International Accounting. Here she was also responsible for transitional service agreement exit as a result of merger & acquisition transactions as well as the integration of accounting systems.
In more recent roles as Assistant Controller, Jamie was not only responsible for General Accounting but also Accounts Payable, Time & Expense, Travel, Accounts Receivable & Collections, Contract Close-out, Financial Reporting & Consolidations, Payroll and Project Accounting. Additionally, she served as the lead for comprehensive Deltek Costpoint integrations. Jamie provides implementation services as well as Corporate Controller level staff augmentation.
Jamie graduated top of her class from the University of Tennessee with a Bachelor of Science degree in Accounting and a Master of Business Administration from Tennessee Technological University. She is also a licensed Certified Public Accountant in Tennessee. She currently resides in the Northern Virginia area where she enjoys spending time with her family.